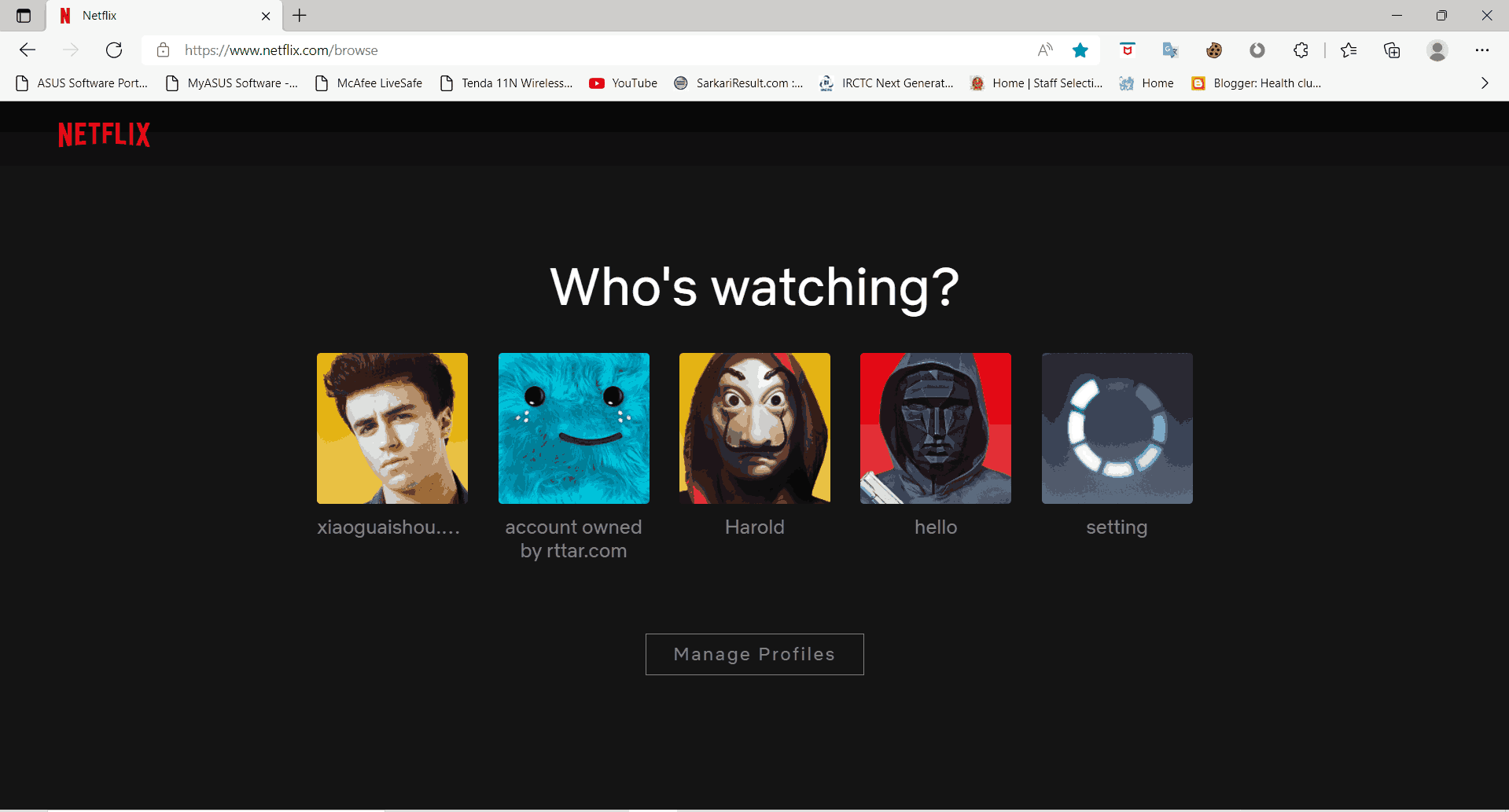 Netflix is paid ott platform in which you can watch popular content on the web. You know that Netflix is ​​the most popular application for entertainment. Today, Netflix has 139 million paying subscribers. Netflix, Inc. is an American media service provider based in Los Gatos, California, founded in 1997 by Reed Hastings and Marc Randolph in Scotts Valley, California
If you are addicted to Netflix and really want to access Netflix for free without username and password, read this complete tutorial. Because today you are learning a lot about Netflix and cookies. So stay with us and keep reading.
If you want to get a free Netflix Accounts, Netflix MOD APK and then check this article. This is another way to use Netflix & Films.
Netflix Cookies
Let me explain more about Netflix. If you recall, between 5 and 6 years ago, when there was no smartphone, the main source of entertainment for young people was playing on the playground or watching television, but since the launch of smartphones, the scene has completely changed.
Now you will hardly find a teenager or an adult walking in the park or watching TV, and the main reason is smartphones and smartphone app. With the help of an app like Netflix, we now have everything in our hands. Now we don't have to sit in front of the TV waiting for our favorite movie or series to arrive. We can only open the Netflix app and find what we want to see there.
Read More: Watch Tv Shows Online
Premium Netflix Cookies Today Updated 2022
Here are the ultimate boxes of Netflix cookies. I have shared 10+ working premium Netflix account cookies that updated hourly. Enjoy
What are Netflix Cookies?
Netflix Cookies is a small data in a browser used by every browser to remember your login and serve you good content. Cookies have an expiry date when it gets expired.
Different websites use cookies to detect user data like emails and sessions so that users do not have to log in again and again. The website takes the help of cookies to autologin in the website.
Cookies get expired when you logout from the particular website. After login out from website the website will not able to use to same cookies to login you automatically in website.
In the same way, Netflix cookies also work. You can log in to any accounts if you have working cookies. You need to import working cookies in your browser through the steps I have explained to you.
First of all, we need to know how the browser works. When we visit any website, all cookies and browsing data cache are saved in your browser. If you want to verify that, go to the browser settings and open the cache cookies option, you can see all your data that you browse.
[
{
"domain": ".netflix.com",
"httpOnly": true,
"path": "/",
"secure": false,
"expirationDate": 1667751127,
"name": "nfvdid",
"value": "BQFmAAEBEKnabNrOXgtfl_CSaEQ7TXtgMZ5BckrRQc075LsyJcSYgW5FlXX32IMBb9ZajRuY4UrXrJFrnFeWgN6_Yx5qiZvC2WPRTpyHekQIJuN4CEU6Dmd2Z1eUNPM2nY1J7Xzvnya4EV3odq2uJYxcP3Sd5dFV"
},
{
"domain": ".netflix.com",
"httpOnly": true,
"path": "/",
"secure": false,
"expirationDate": 1677753971,
"name": "OptanonAlertBoxClosed",
"value": "2022-03-02T10:46:11.294Z"
},
{
"domain": ".netflix.com",
"httpOnly": true,
"path": "/",
"secure": false,
"expirationDate": 1677753971,
"name": "OptanonConsent",
"value": "isIABGlobal=false&datestamp=Wed+Mar+02+2022+07%3A46%3A11+GMT-0300+(Hor%C3%A1rio+Padr%C3%A3o+de+Bras%C3%ADlia)&version=6.6.0&consentId=78497f87-8fc3-4e14-967c-4e7120f98a3e&interactionCount=1&landingPath=NotLandingPage&groups=C0001%3A1%2CC0002%3A1&hosts=H12%3A1%2CH13%3A1&AwaitingReconsent=false&geolocation=BR%3BRS"
},
{
"domain": ".netflix.com",
"httpOnly": true,
"path": "/",
"secure": false,
"expirationDate": 1653993984,
"name": "playerPerfMetrics",
"value": "%7B%22uiValue%22%3A%7B%22throughput%22%3A14239%2C%22throughputNiqr%22%3A0.42717595301436434%7D%2C%22mostRecentValue%22%3A%7B%22throughput%22%3A15200.1%2C%22throughputNiqr%22%3A0.3196019527042881%7D%7D"
},
{
"domain": ".netflix.com",
"httpOnly": true,
"path": "/",
"secure": false,
"expirationDate": 1679508553,
"name": "NetflixId",
"value": "ct%3DBQAOAAEBEH_bytZ-uh2gYRj6MBvSy2aCYBNJ-Xwlw4j_mRaXD9cQ9FAn59UdZsLdqP3X9VlKCWWYMJ-KpaWQxNFpZQn6oqN3OINti5gcL5RlaoKc_MUsmqQ4sIDa2yaI28cRX82p9T6E1Nlg2lk6QrvuaQzT4JIjG5BbgKcQTmzVlwLLM8re6eSqlnfwjQ4g2tBWX78RtjEBZz9k59lOEbDdxMbpiUaYnW2mCN0Kq4MmZg5P-wX7qdirzOTWKbT1ZVU3EhUcwTVA7KorkXlsBuRoPACVgTz_mAp_hAfnHBQwSJYcCa7cRv4RGWManGu7i9VlCR43NGobqnpzfDfXhC_0fapNdjAZ7Jk6REF3WrEeKePdB_NicKmxxQkmXhS0P9SIZLidIF–i7Huon-sgWzQzD08DFxXsnAe5b8Us1WCY4NDO71jrZZSL2y7r2HaR6fUl7Rxr8fn8qwtDsKgKDMT3lo-6TNIhKTvloHqCBOjlD3tIl7xcWR1uhjXf9RBAb3UlMSyKFLKFdCYTo3HYYRCmifsFWOXXyfgAOEal4_Pgd3oAAF1E2WIlNVgNTUeRWBCvg0n66DtvL6l-a9G9kvLw_-l_C499JMEUhDS8QUL0yhmY7HIFrJUbpHC_1mTyrKbhkYHhEYXfd2yjUZb07OjMrhH8vDVJrRzvMVhXxyNro8-EDBdf2FzyoPCoOuA20AdngvaBS67a4xgBvOY9REORuBSueLs0f7zElgHHdJUE_5cUNehzH4bRoNlXpH7TY7yPVnZp9UsmO5rJJK_1rWobdBWZKmYpBkIsks5CVT2wJrfpNNJz6xt_1V56dK6-W5timabfkpB%26bt%3Ddbl%26ch%3DAQEAEAABABT_itPyGnGMFrqKD8dGr1Qh_jAzc7mqpyg.%26v%3D2%26mac%3DAQEAEAABABR6wTduqcxQ1nXkwr31cRZQ6v0H3rUyqVk."
},
{
"domain": ".netflix.com",
"httpOnly": true,
"path": "/",
"secure": false,
"expirationDate": 1679508553,
"name": "SecureNetflixId",
"value": "v%3D2%26mac%3DAQEAEQABABRPzbIfTHMwCvB0n9kLwt0uxaOagKbPnUY.%26dt%3D1647972568349"
},
{
"domain": ".netflix.com",
"httpOnly": true,
"path": "/",
"secure": false,
"expirationDate": 1679508582,
"name": "memclid",
"value": "a39ee3e4-2fa8-453b-b861-46e5f30b9a40"
}
]
COPY ALL THE COOKIES